So if you're not up to date, we've already been giving you the lowdown on the hottest swimwear for this season here, and welcome to part 2! We're on a mission to help you feel and look gorgeous and confident on the beach this summer, whatever your style.
Read on and discover even more great swimwear options that'll be just right for you!
The 1950s bombshell
In the 1950s, screen sirens didn't do anything by halves and they oozed sophisticated glamour even when on the beach. Taking such starlets as Sophia Loren and her indescribable va-va-voom as inspiration, you can't go wrong! Add into this the fact that the 1950s swimsuit styles are really flattering, and you've got a sure-fire summer hit on your hands.
With comfortable high waists, and glamorous halter-neck styles, if you're curvy a 1950s style will give you the support you need, and if you've got a more boyish figure, the high waist will give the illusion of more curves. It's a win-win situation really!
Budget :
With its flattering fit and gorgeous print, this Rosegal bikini looks much more expensive than it actually is. At just £14.12, you can confidently strut your stuff on the beach, and emulate thos vintage movie stars.
Splurge:
Although this swimsuit only cost £35, we're popping in splurge simply because it is the bargain of the century from luxury Scottish brand Brora! With its stunning and retro Liberty print, and chic 1950s silhouette, it ticks all of our boxes, so snap it up.
The curvy gal
These days, designers are beginning to finally understand that curvy ladies want to have fabulous swimwear options too, and there is a great range available now. And whether you want to show some skin or choose a more modest piece, there'll be something for you.
We love the more ostentatious pieces that still offer the structure and support to keep you feeling confident on the beach, so make sure you don't fade into the background – use the options bleow for your beach style inspo!
Budget:
Is it ostentatious? Check. Is it glamorous? Check. And it is affordable? Check, check! For a little bit of metallic luxe when you're in and out of the water, this gorgeous bikini from Forever 21 is going to be just perfect. Available in sizes XL to 3XL, and costing just £18, we are in love with this bikini!
Splurge: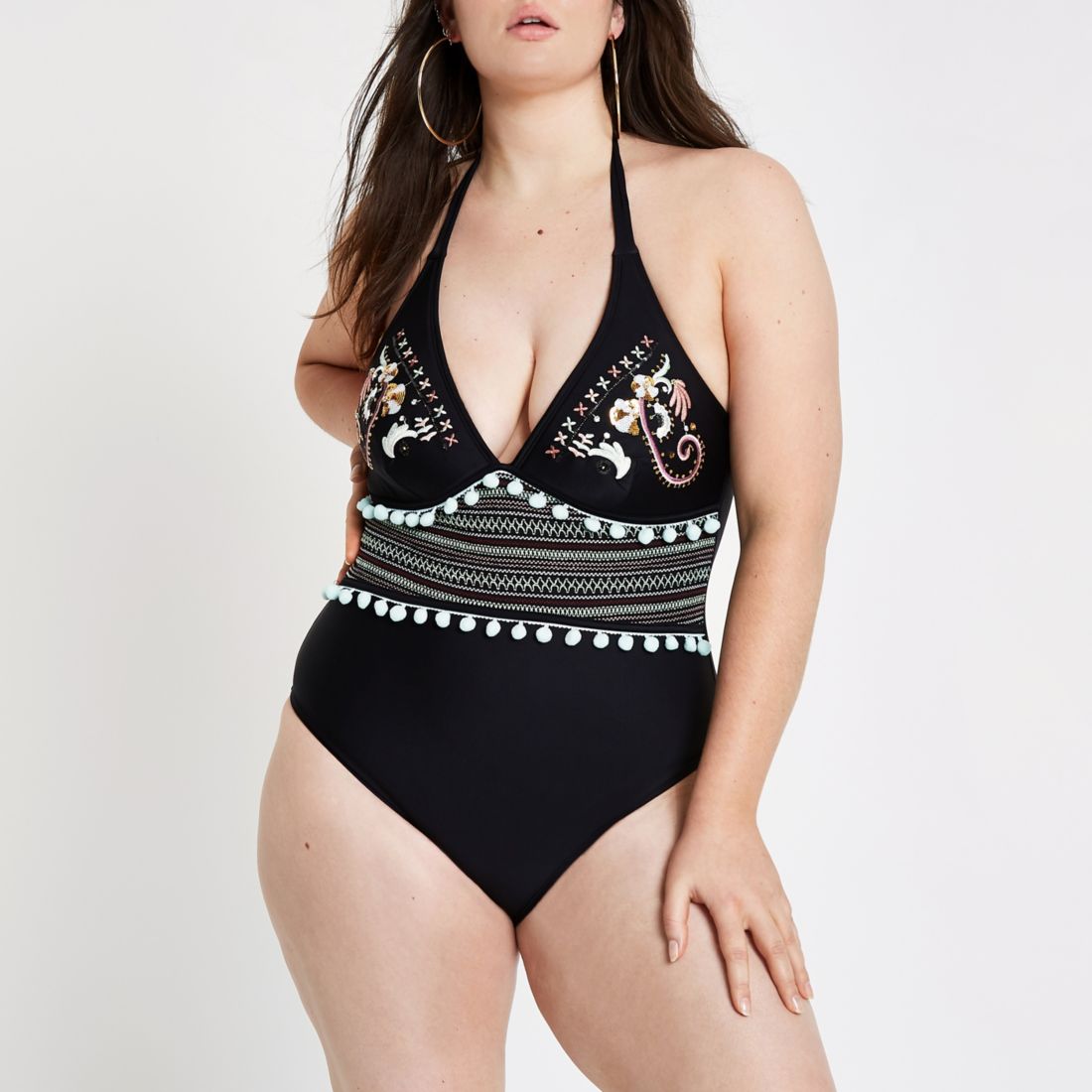 Thanks to its sexy plunging shape, embroidery and pompoms, this River Island swimsuit is a style winner. With sizes ranging from 18 to 28, which is pretty inclusive for a high street brand, this luxurious-looking swimsuit is going to make you look and feel fantastic.
So for beachside chic this season, make sure you pick the swimwear that's going to suit you!